About Us
About Gladhill Furniture
When you buy furniture, you're buying a piece of history - your history, stories yet to be told of the memories you'll make in your home.
No one understands the connection between furniture and history better than Gladhill Furniture, a family-owned business in the heart of Middletown, Maryland. This year, we celebrate providing 100 years of unmatched customer service and the finest custom-designed pieces for every room of the home!
Since 1915, Gladhill Furniture has been dedicated to bringing fine furniture and design to the greater Frederick, Maryland community, and beyond. Calvin Tressler Kinna Gladhill (1874-1935) founded the company with his wife, Lola Wiles (1880-1969). Together, Calvin and Lola Gladhill built The Gladhill Furniture Company into a successful business enterprise. They began as a part-time catalog sales business in a shed in rural Middletown, Maryland. Items such as stoves, appliances, chairs and other furniture were sold by three employees with the philosophy of competitive prices, quality merchandise and customer satisfaction.
Interestingly enough, Calvin began his professional career as a funeral director. Calvin Gladhill was well-known as a fine supplier of custom handmade wooden caskets. Then, in the early 1920's when Calvin visited Highpoint Furniture Market, he and Lola expanded the casket making and catalog sales business into a greater array of custom-made quality furniture. In October 1929, ads were taken out in local papers announcing the new "Furniture and Undertaking Establishment" (which is still the present location). The building featured a funeral chapel and one of the largest and most modern furniture stores in all of Maryland.
Throughout the 1920s, the Gladhills employed local cabinet makers to fashion custom furniture in solid walnut and cherry woods – pieces which are still found in some of the finest homes in Maryland and beyond.
Current owner Jim Nicholson bought The Gladhill Furniture Company in 2000. Mr. Nicholson has decades of experience in the furniture business, and saw a lot of potential in Gladhill Furniture. Since that time, Mr. Nicholson has breathed new life into the company and continues to feature the finest furniture brands and custom-made pieces for every room of the home. Complementary design services are also a part of Gladhill's successful model, and their Design Consultants constantly offer an amazing amount of support and knowledge to their customers.
To celebrate 100 years of service and fine furniture design, in April 2015 Gladhill Furniture hosted a large VIP store event. Main Street Middletown performed an official ribbon-cutting ceremony, ushering in a new century of sales and service. The milestone event was covered by the local Frederick News-Post, as well!
When you buy from Gladhill, you will enjoy the well-rounded perspective of a company that has grown from a modest furniture shop with three employees and a horse-drawn wagon for furniture delivery to a five-story showroom featuring the nation's most respected furniture brands that perfectly capture today's modern trends in home interior design. To this day, the Design Consultants at Gladhill Furniture have maintained their commitment to providing you with beautiful furniture, enduring quality and legendary customer service.
Gladhill has been a part of your friends' lives for a century. You may have enjoyed our furniture with your parents and grandparents. And because our commitment to quality is unmatched, you can rest easy knowing your Gladhill purchase will be around for generations to come.
Calvin, Annie, and Magdalena Kinna Gladhill in Front of Their Home, Harmony, Circa 1895.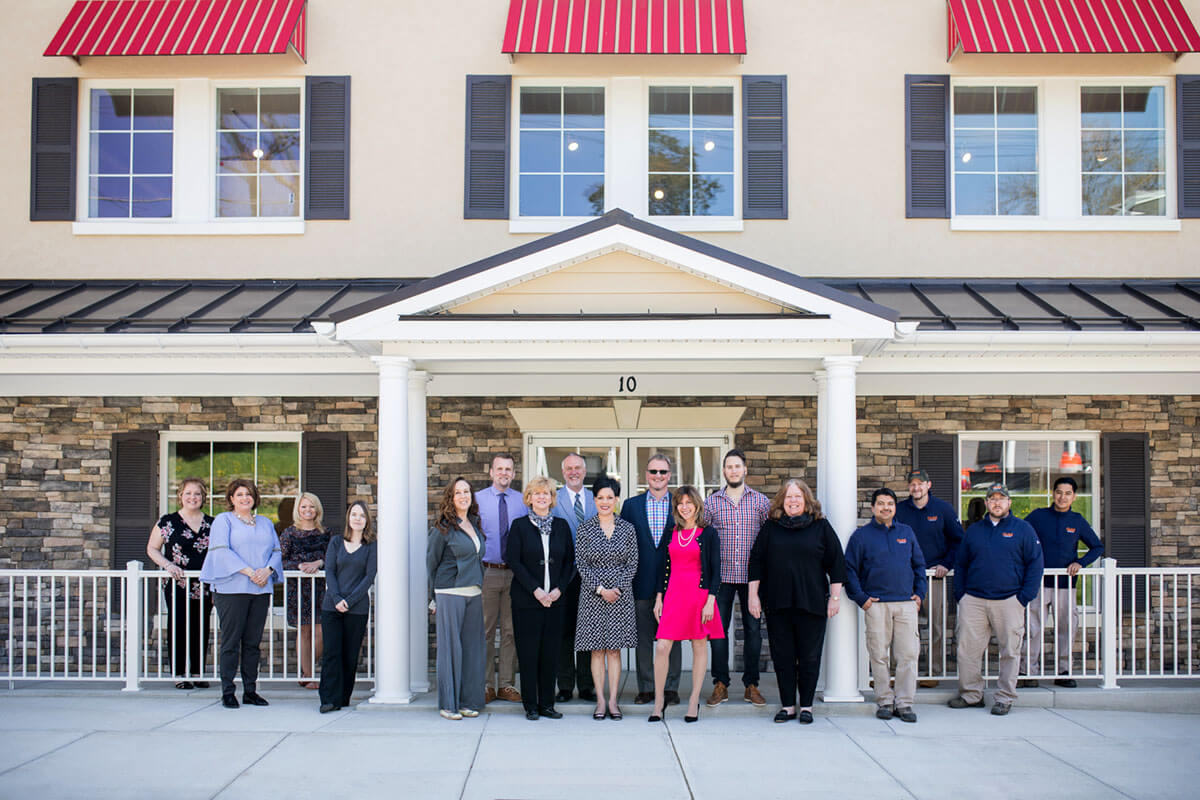 The Gladhill Team today