When searching for furniture, everyone wants a luxurious piece that also offers comfort and style at the same time.
Color Choice
Leather furniture is one of the most popular upholstery materials for all pieces, whether that be sofas, chairs, sleeper sofas, ottomans, and more. Leather offers a buttery soft feel on almost any piece of furniture in a plethora of colors! Color choice is important in selection of leather furniture because certain colors flow better in certain households. Colors range from neutrals, to pastels, to jewel tones, and more. Making these colors a base with a touch of color opens a room and creates interest to guests.
Multiple Types
Leather comes in multiple types, finished, aniline, aniline-plus and Nubuk. Finished leather is typically best in an active household and is resistant to staining but is consistent in overall color. Finished leather generally requires the least maintenance. Aniline leather is the material closest to a pure and natural form of the material. Aniline leather is tanned and dyed exclusively with transparent dyes which allows you to see the rich hues and uniqueness of each hide. Aniline leathers also offer highlight effects such as wax, pebble grains, or a distressed look. Aniline-plus leather is quite simply aniline leather with a protective coating on it which allows the look of aniline leather but also with a coating of protection from interior elements. Aniline leather is more affected by the sun simply because they are not as protected as finished leather. Nubuk leather offers the most varied and unique textures among leathers. Nubuk leather is dyed with transparent dyes as well but is altered to feel much softer than other leathers. Nubuk furniture is versatile for almost any project involving leather and can be used for formal or casual pieces. Nubuk leather is similar to velvet and will make people fall in love as soon as they touch it.
Durability & Usability
Leather furniture offers a modern look to any room with sleek, durable, and easy to clean designs. The durability factor behind leather furniture makes it a great value that will retain comfort for years after being added to the home. Leather also doesn't absorb liquid or stain easily, making it friendly for families of all kinds, including those with children or pets. Leather also offers better durability compared to similar upholstered fabric pieces. Leather is also a versatile material; it can be used in a new or old state which makes it an all-around favorite. Leather ages well as a material and as it begins to scratch or blemish, it adds to the uniqueness to the piece. As your family begins to get used to a leather piece, it will get used to you as well and continue to gain comfiness as the piece receives more use.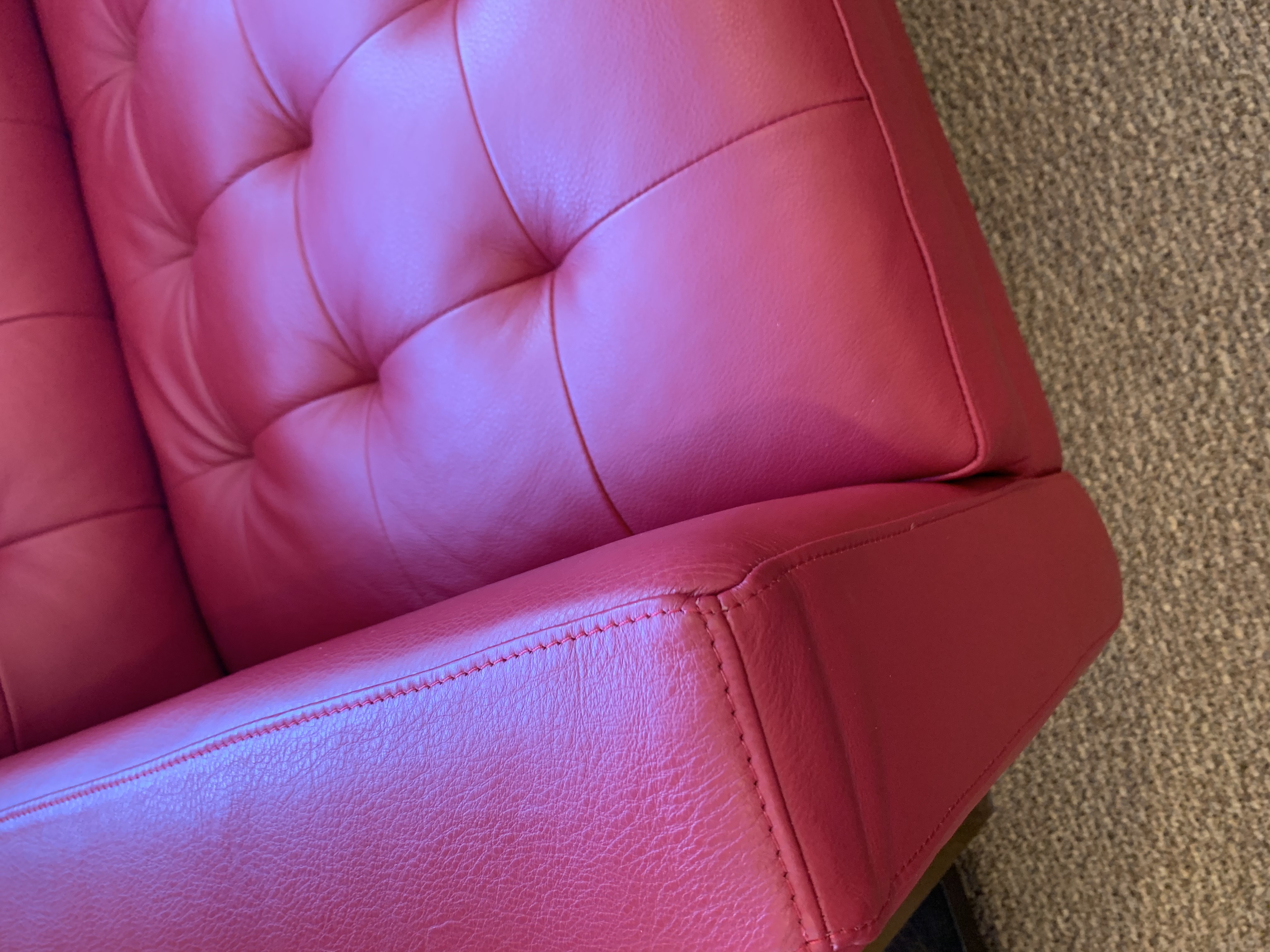 Built to Last
Leather sofas are typically built with spring suspensions and elastic webbings which makes furniture look more comfortable. Leather elasticity gives a sofa or chair more bounce which increases coziness as you spend more time watching your favorite show. Foam and fiber components within the sofa help the piece maintain its shape and helps with comfort as well. Leather is a breathable material which is beneficial for all users because it can adjust to any body temperature with great speed. When well kept, leather is like a fine wine, it only gets better as it begins to age.
When ordering your quality leather furniture with us, it's important to realize we only use premium materials for any upholstery project. This allows for high quality work and supreme comfort when purchasing a piece from the Gladhill showroom. Gladhill makes a conscious effort to minimize our ecological footprint so we only use reliably and sustainably sourced leather. Come in or contact an experienced Gladhill designer to get started on your next leather project!